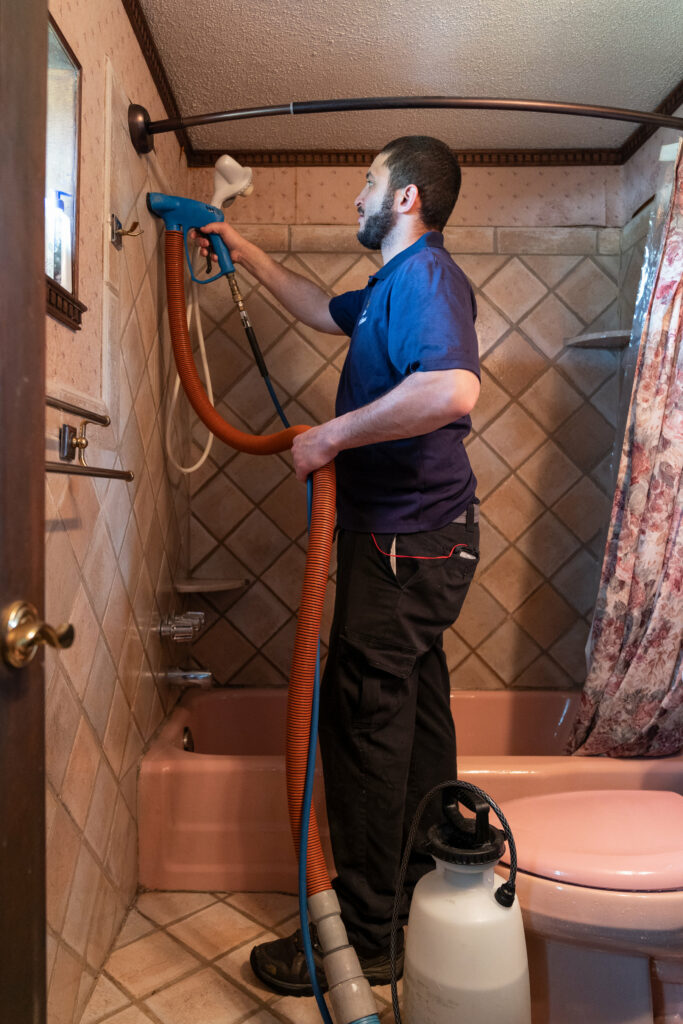 Majestic in Blackwood is your professional source for South Jersey tile and grout cleaning! We serve residential and commercial property owners throughout the region, and we provide top notch tile and grout cleaning for cleaner and healthier kitchens and bathrooms. Check out the example in the photo to see what we can do for you!
With Majestic, you no longer have to get on your knees with a tooth brush, or brush with some kind of deck brush and fight with smelly chemicals that don't work. Why hurt your knees, dry out your skin, fighting with harsh smelly chemicals, when you can get sparkling cleaned tile and grout cleaning without the hassle?
We use the latest tile and grout systems. Our system will effectively blast old soil in your grout lines. You'll be amazed at the immediate difference, and at the dirt disappearing before your eyes! You'll get to see your tile and grout lines come back to life, and see what your neighbors have been raving about.
Don't wait to get the job done with tile and grout cleaning…it's time to make your grout sparkle like it used to and get rid of the dull look. We promise you'll see the difference, even if you think your tile is beyond help.
With Majestic, it's simple…you can schedule your tile and grout cleaning with your carpet cleaning or schedule it when our schedules allow. We'll schedule a date for you right on the phone, give you a few instructions on how to prep for our arrival and that's it!
Call us today or use the form below to get started, and let us give your South Jersey kitchen or bathroom a Majestic new look!
Your Free Demo
Schedule any carpet or upholstery cleaning and you'll Instantly qualify for your free tile and grout cleaning demo. Or be one of the lucky seven who called me before all of our monthly demos are grabbed up. Just make sure you let us know "before" coming out, so we can block out enough time to make it look like new again.
Now that you're thinking of taking me up on my free demo, you should call now so you don't miss out. It's on a first come first serve basis. When you call please provide us an approximate size (square feet) of the tile you'd like cleaned.